Destination Cycling welcomes you to a special training week in Mallorca, Spain. Join us for 7 days and 6 nights cycling the fabulous roads of Mallorca Spain. Come ride with us on the island that is known all over Europe for early season cycling. Over 250,000 cyclists of all levels and riding desires visit this Island each year. Mallorca has built an infrastructure that caters directly to all levels and all types of cyclists. From the flats (if needed), to the rollers (sure why not), to traditional European switch­back climbs (oh yes, that is why you came), Mallorca has it all and is one of the best areas to start your season.
NEW in 2018 – We will be staying at the beautiful Zafiro Palace Alcudia Spa Resort located on the northeastern side of the island and gateway for easy access on our daily rides. We've listened to many of your requests over the past few years and believe this is the hotel you have been asking for! Your trip package includes all breakfasts and dinners at this Wellness and Spa style hotel. The weather has historically been mild with temps from 60's to low 70's and with over 300 days of sunshine we hope "Mother Nature" will shine on us while we are there.
Joe, Marti and the rest of us, hope you can join us in 2018
See for yourself why over 90% of our guests have all returned for more of what this island has to offer….
Trish Karter – a FABULOUS riding experience in the company of terrific cyclists and nice people in a beautiful place!
Great food. Great Organization. Great Support. Great riding companions. Big Challenges. Outs (if you need them). Sophistication about training (if you want to access it). FUN for sure. ELEVATION as much as you want. GORGEOUS scenery whether you want it or not. Lively group meals unless you prefer quiet small ones – all controllable and easy. No drama. Very comfortable facilities and services for what you need. Weather close to perfect every day! OPTIONS daily for whatever kind of ride best suits you.
Bottom line – I'll go back if I can. Joe and Marti are super pros at this — as is their WONDERFUL team. 5 STARS (of 5). Trish Karter 2nd overall B.U.M.P.S
Additional stay: We encourage you to stay as long as your wish as the island offers some amazing riding.
ROOM TYPES – additional price per day per person
Junior Suite – pp. dbl – $180, or pp. sgl occ. $225
Swim up Junior Suite – pp. dbl – $200, or pp. sgl occ. $270
Zafiro Suite – pp. dbl – $220, or pp. sgl occ. $280
Penthouse Junior Suite – pp. dbl – $230, or pp. sgl occ. $300
*Depending upon your arrival or departure, staff members may or may not be present for your additional stay
**PLEASE READ You will be in the comfort and Professional hands of Destination Cycling during your stay. You will have a cycling guide with you during the daily planned ride and on the 2 longer days, your guide will be driving a van to support you in every way deemed possible.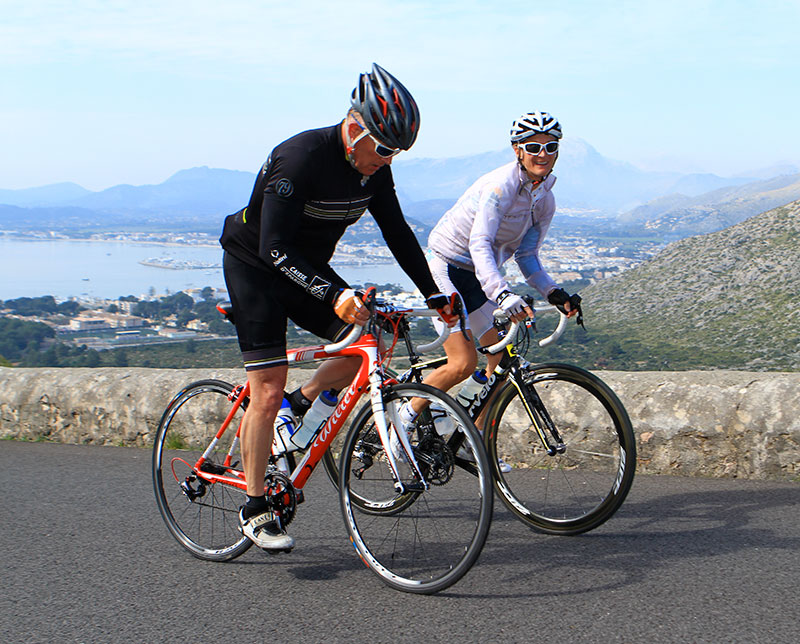 6 days of road riding on this famous cycling island. Offering you everything from flat fast roads, to hilly countryside to some breathtaking mountain switchback climbs.
Daily Rides: ** PLEASE READ – An optional planned itinerary during your stay is as follows, but you are welcome to ride longer, shorter, faster or slower depending on HOW YOU feel on any and all of your vacation days. We can have Garmin routes for you to upload to any of your favorite locations.
We will have 2 organized guided ride each day – see below. Most days will have a departure time of 9:30-10am, but can change with weather, distance and possible transfers. The rides will be a "NO DROP" ride, the pace will be controlled by your Guide and will roughly be 13-18 and 18-23mph avg speed, this will change daily based on whether you are riding on the flats, the rollers or climbing Sa Calobra for example. If you know you will not be in this condition, please let Joe know this prior to the trip to discuss.
GUIDED RIDES
Arrival day, 3 – 5pm, "break- in ride"
Day 2 – 45-55 miles – Lluc
Day 3 – 45-60 miles – Cap Formentor – flats
Day 4 – 40-70 miles – Sa Calobra – van support
Day 5 – 45-60 miles – Petra – possible San Salvador
Day 6 – 50-85 miles – Andratx to Hotel – van support
Day 7 – 20-30 miles – pending your departure time* Longer or shorter options are available but will not include a Guide. Arrival and departure day rides will be based on your actual airport transfer times. Routes subject to change based on weather and riding conditions.
All accommodations 6 nights
FUN on your bike
All breakfasts and dinner buffet (Drinks extra)
All transportation during the trip (airport transfers – if you use our adhere to our specific times)
Wi-Fi
Off site dinner in Alcudia
Mechanical assistance from mechanics after each stage
Pre-­departure info on how to prepare for your trip
Routes available on maps or via Garmin GPS electronic files